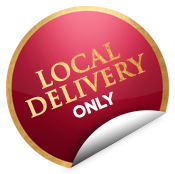 Mousse Based
*mousse with fillings and/or toppings*
Strawberry Banana Pudding
Key Lime Pie
Coconut Cream
Double Chocolate
Boozy Banana Pudding**
Cookies n' Cream
Strawberry Milkshake
Coconut Coquito**
Caramel Banana Pudding
Bailey's Cookies n' Cream**
Strawberries n' Cream
Golden Cookies n' Cream
Cake Based
*cake with fillings and frostings*
Strawberry Cheesecake
Lemon Lust
Butter Pecan
Spiked Strawberry Shortcake**
Pineapple Ciroc**
Strawberry Shortcake
Cookies n' Cream
Boozy Butter Pecan**
Drunken Peach Cobbler**
Turtle
*Please note that our mini dessert shooters are sold in 2 dozen increments.
**Shooters DO NOT come with spoons unless included as part of a custom table set-up package. Custom spoons are an additional $8 per 2 dozen and basic spoons are $4 per 2 dozen.
***Please ask about pricing for custom colors and other upgrades (edible toppers, bling, etc).
Cake Based
*cake with fillings and frostings*
Strawberry Cheesecake
Lemon Lust
Butter Pecan
Spiked Strawberry Shortcake**
Sinful Chocolate
Pineapple Ciroc**
Strawberry Shortcake
Margarita**
S'mores
Cookies n' Cream
Boozy Butter Pecan**
Drunken Peach Cobbler**
Turtle
**contains alcohol
Mini Shooters / 2oz / 1 flavor
(sample picture below)
$36/ 2-dozen
$44/ 2-dozen (with alcohol)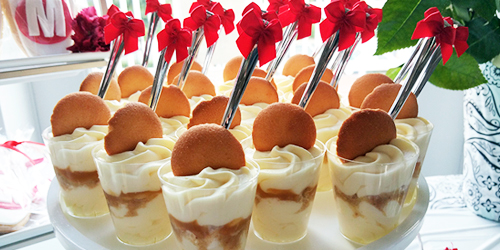 Medium Shooters / 3.5 oz / 1 flavor
(sample picture below)
$46/ 2-dozen
$54/ 2-dozen (with alcohol)